Is the Bushnell Legend Ultra HD 10x 42mm Roof Prism Binocular Worth the Price?
 The Bushnell Ultra 10×42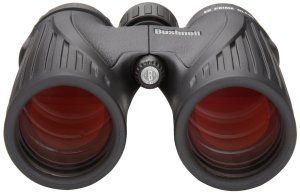 gives you a larger field of view than many other 10x binoculars in its class. The massive field of view and numerous advanced features enable you to use these binoculars for any purpose. These binoculars feature some of the highest performing optics ever made by Bushnell and it's no wonder why they get excellent user reviews no matter where you turn. Other than the ridiculously high performance of these binoculars, they are also very good-looking.
The optical performance of the Bushnell 10×42 is very impressive. The binoculars enable crisp, clear viewing and they have good edge clarity. These mid-sized binoculars have a light magnesium chassis which makes them feel good in the hand. The moving parts including the main focus, diopter focus, and central hinge move smoothly and precisely. The high power of these binoculars means that you must have a steady hand to clearly see faraway subjects – the excellent field of view does a lot to compensate for small unintentional hand movements. You get a handful of accessories with these binoculars including a padded carrying strap, lens caps with keeper loops, a harness, and a semi-rigid case.
What makes the Bushnell 10×42 better than similar binoculars?
When shopping for binoculars in this category and price range, you are bound to come across many competing brands. Some of the binoculars that try to give the Ultra HD 10×42 a run for its money include the Nikon Prostaff 10×42, Nikon Monarch 5 10×42, and Vanguard Endeavor 8×42. These binoculars are some of the best binoculars made by the respective manufacturers. Although the Bushnell Legend is not perfect, it does better than its competitors where it matters most. The two Nikon models have very similar optical performance with the two main distinguishing factors being build quality and price. The Prostaff is cheaper than the Monarch but it also has inferior build quality. The build quality of both Nikons is better than the Bushnell but they have no further advantages. The Bushnell Ultra HD 10×42 is clearly optically superior to both Nikon models. It has excellent contrast and color saturation.
When you compare the Bushnell side-by-side with the Endeavor
, you will notice that they are quite similar in terms of brightness, overall image sharpness, and edge sharpness. The build quality and design of the Endeavor is slightly better than the Bushnell but chances are that people are more concerned with optics than the build quality of binoculars. The Bushnell clearly has superior color accuracy than the Vanguard Endeavor. The Endeavor has a slightly warm color tone but the Bushnell keeps all colors natural as you would see them with naked eyes. Bushnell was also a bit more thoughtful because they include a binocular harness in the retail package.
Can you use the Bushnell binoculars 10×42 for astronomy?
These binoculars have a very wide field of view which presents a potential problem for people who need to use the entire field of view. The problem is the distortion that occurs at the very edge of the image. Aberrations are easily detectable for many binoculars so it is very unfair to hold it against the Bushnell Ultra HD 10×42
. The very wide field of view negates the disadvantage of image distortion at the edge because you would still have a lot of usable detail even if you removed the distorted edges.
The usable image you get with these binoculars is still bigger than most other binoculars of the same magnification and size. When using these binoculars for stargazing, you will easily be able to reveal crisp pinpoint light when focusing at celestial objects like the stars. The extra-low dispersion glass and coating clearly helps with colors because you can easily detect subtle colors with these binoculars. You can be impressed by the impressive appearance of star clusters when viewed with these binoculars. The most noteworthy thing about these binoculars when used for stargazing is their contrast. The sky background remains very dark and objects appear nice and vivid.
What are the main features of the Bushnell 10×42 binoculars?
For their price, these binoculars must be pretty special in order to convince people to buy them and they truly are. Here are some of the things that put these binoculars ahead of the competition:
Extra-low dispersion prime glass enhances contrast and delivers unparalleled color resolution
Very wide field of view enables you to see a lot more of the picture than you would with competing binoculars
2mm eye relief enables people to use the binoculars comfortably whether or not they wear glasses
The light magnesium chassis makes it easy to carry the binoculars around without getting tired and it is also strong enough to withstand damage
The lens features water-repellant coating to keep the image clear even when there are water droplets on the lens
The ultra-wide band coating minimizes color distortion and improves light transmittance
Dry nitrogen purging as well as O-ring sealing makes the binoculars fog proof
Patented water-repellant coating minimizes light scattering by causing water droplets to bead up instead of spreading
Ergonomic soft touch grips makes them easy to use for extended periods
With the locking diopter, you can adjust one lens to compensate for differences in eyesight between the eyes and keep it that way
5 ft. close focus enables you to look at much closer objects and increases your depth of view
These binoculars can be easily adapted for use with a tripod
Weighs 24.5 ounces and therefore very easy to carry around
Conclusion
These binoculars have excellent optical capability and you can use them at any time and for any purpose. They have excellent contrast and light-collecting ability and have zero chromatic aberration which makes them perfect for stargazing. The excellent weather protection means you can take them outdoor and use them comfortably regardless of the atmospheric conditions. They are great for a person looking for an excellent general purpose pair of binoculars. Despite the high magnification, the Legend Ultra HD is quite easy to keep steady at the highest magnification because of its light weight design. This binocular also comes with an excellent assortment of accessories.