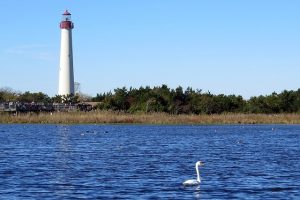 For more than two centuries New Jersey has been a chosen destination point for bird observers who have found Cape May and its surrounding areas a veritable Mecca for birding. This is due in large measure to the huge variety of habitats that exist in Cape May County for migrating birds such as swamps, salt and freshwater marshes, ponds, grasslands, open fields, pine forests and saltwater lakes. Known as the most exciting and famous birding hot spot in North America, no other place offers the exciting possibility of spotting a new species, a fact that has almost become a matter of fact in Cape May.
When to go for bird watching in Cape May
Because of the abundance of bird life in the area, there is no good time to go birding in Cape May. Any time you would like to or can get away is a good time as migration happens northbound and southbound all year round. Because of its diverse habitat, the headland supports more than 146 nesting species. In the back bays of the harbor, you will find laughing gulls and scarlet tanagers in the woodlands. Yellow-breasted Chats and Yellow Warblers prefer the open fields, and in the hardwood swamps, there are Prothonotary Warblers to be seen. Herons and egrets stick to the marshes where they feel most at home.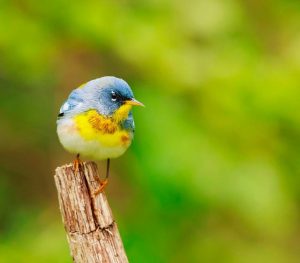 In late January the Spring migration commences with the first Northern Pintail's arrival and lasts until the Broad-Winged Hawks make their way north. The first southbound shorebirds mark the Fall migration that starts from the middle of June through February and March when more than a million seabirds take to the sky.
Late in July the peak of the shorebird migration southbound occurs, and during the last week of August into the first week of September the peak of migration occurs for flycatchers and warblers.
The best way to immerse yourself in an awe-inspiring birding experience is to attend one of the Cape May Festivals. During the fall the Cape May Bird Observatory conducts 4 official migratory counts:
– The Monarch Monitoring Project
– The Morning Flight Songbird Count
– The Avalon Sea Watch
– The Cape May Hawk Watch
When is the Cape May Fall Festival
The 2017 Cape May Fall Festival takes place from Thursday, October the 19th at 5.00pm, to Sunday, October 22nd at 5.00pm Eastern Time. The weekend excursion offers a variety of guided walks, photography walks, as well as entertaining and insightful indoor programs. Every afternoon there will be Hawk ID master classes held at The Bleachers and seabird classes on the beach in Avalon. Special boat and trolley trips are available to registered festival attendants. For an up-close look at seabirds there will be a 3 hour trip to the Rips on Saturday afternoon led by an outstanding crew of guides.
On Friday evening locals Kevin Karlson and Pete Dunne will be presenting their new visually stunning book "Birds of Prey" and on Saturday evening they will welcome their partners from the UK and Sweden, SPURN and Falsterbo to learn more about migration monitoring and international collaboration. The Cape May Convention Center will be open with free entrance to view the Raptor Project by Jonathan Wood, featuring a spectacular collection of live eagles, owls, hawks, and falcons in multiple interactive shows throughout the day.
Where to Stay for Cape May Bird Sightings Trip
The official hotel of the Cape May Festival is the Grand Hotel where a number of rooms will be reserved for festival participants at a special rate. Act soon as accommodation is limited.
What to Bring
Apart from your favorite bird watching binoculars or trusted spotting scope don't forget to bring along any accessories that will help you use your optics in the most effective way. These could include handy equipment such as cleaning tools, a carrying strap or a harness, a Digiscope adaptor, and anything else you think may come in handy.
Even if you are not a skilled photographer, a camera will be useful for later identification of birds you spotted. This can be extremely important when unfamiliar birds are spotted or when birding in foreign regions. Remember to bring extra batteries, cleaning tools and memory cards for the camera.
An essential piece of equipment when birding is a field bag to tote your gear. A cloth or canvas bag is more comfortable to carry and will take up less space.
While the prospect of finding truly rare birdlife is what drives most keen birders to New Jersey, it is the massed spectacle of migrating birds that have earned Cape May its fame. Principal among these are the concentrations of shorebirds that flock to the beaches at Delaware Bay to feast on horseshoe crab eggs during May and early June. More than a million birds are counted at these times which constitutes the second largest concentration and most visually arresting spectacle in North America.
Source: http://www.njaudubon.org/SectionSightings/Overview.aspx